Share your online charts for consultation or modification, work with several at the same time and visualize in real time the changes made.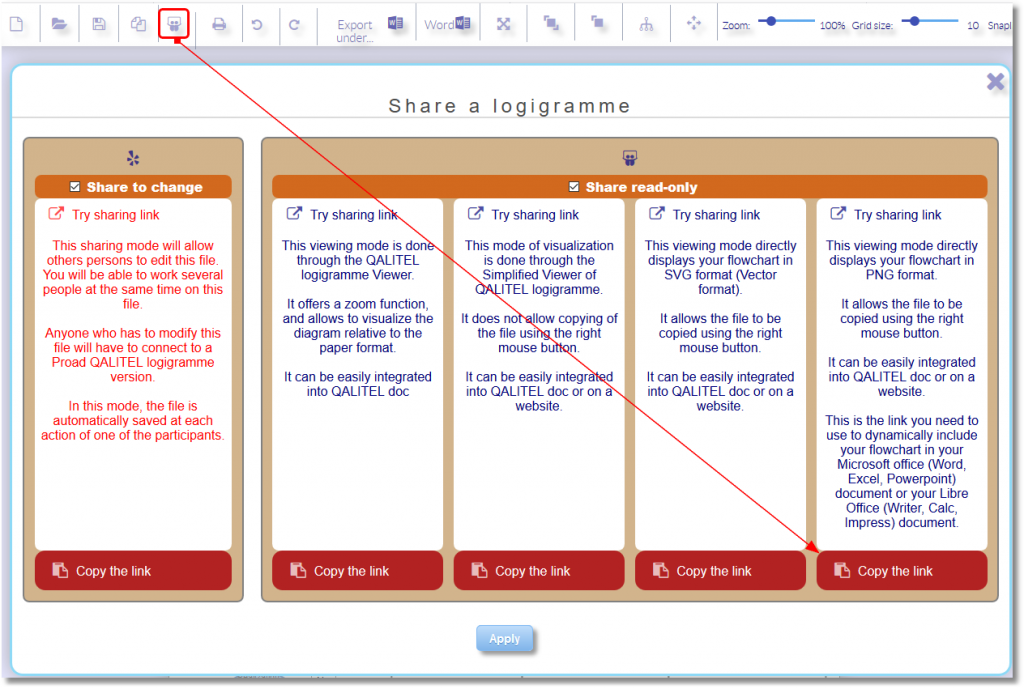 Anyone with the link will be able to open the flow chart for consultation purposes only.
As you can see by reading the screenshots above, you can choose this sharing as read-only according to several modes (SVG, PNG, simplified viewer or no QALITEL logigram)
What's interesting about this sharing mode is that, no matter what changes you make to your flowchart, as long as you save your file, then you have the guarantee that the change is instantly reflected to all users. users of the link. (see export under Microsoft offers and free office by clicking here)
This mode of sharing is ideal for integration into a software of GED like QALITEL doc (click here for more infos), a page of your web site (see example hereafter) because this update is dynamic and especially automatic. It will not be necessary to think about updating your website, your word documents etc, it's immediate!
SHARING A LOGIGRAM FOR REAL-TIME COLLABORATIVE WORK
Anyone with a ProAd version will be able to modify your logigram.
This sharing is ideal to be able to work with several people, at the same time on a logigram, a procedure …
All other people's actions are instantly reflected on all current work plans.
Basically, you immediately see what other people are doing on your flowchart.
You can of course cumulate the share links (see screenshot above).
Thus, you can work on a same logigram through the shared link in edit mode and distribute this same logigram in read-only mode on a website or word document etc … Any update automatically causes the refresh of the flow chart on your web page, your EDM software, your Word document, excel, powerpoint etc …)